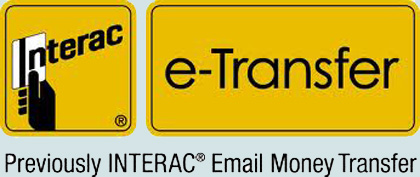 Interac e-Transfer
Using Interac E-Transfer is easy. Step-by-step instructions on how to use Interac E-Transfer are below.
You can use Interac e-Transfer if you have an online banking account at one of the following banks or credit unions:
Participating Banks: BMO Bank of Montreal, CIBC, RBC Royal Bank, Scotiabank, TD Canada Trust or President's Choice Financial and many participating Credit Unions.
HOW TO ORDER
IMPORTANT NOTE: IF YOUR TOWN OR CITY IS NOT LISTED PLACE IT IN THE ADDRESS FIELD AND SELECT A NEARBY CITY FOR THE SELECT DROP DOWN. IF YOU WANT SOMETHING DIFFERENT THEN LOBSTER PLACE YOUR ITEM IN THE DELIVERY INSTRUCTIONS FIELD.
1: FILL OUT THE PRICE QUOTE WEB FORM ON OUR SITE UNDER WHOLESALE IN THE TOP MENU. WE NEED YOUR CONTACT DETAILS, SHIPPING LOCATION AND QUANTITY OF LOBSTER. WITH THESE SPECIALS WE WILL ONLY BE SHIPPING LIVE LOBSTER. ORDER PRICE QUOTE FORM HERE
2: SEND E-TRANSFER TO CONTACT "EAST COAST LOBSTER" RECIPIENT sales@wholesalelobsterprices.com
3: WE WILL MATCH UP YOUR E-TRANSFER NAME WITH YOUR WEB FORM NAME AND EMAIL YOU CONFIRMATION.
We have AUTO DEPOSIT turned on so no need for a question and password.
Your bank will send you a confirmation email and once shipped we will send your tracking number via email.
Important: Delivery days are Tue to Fri only.
EAST COAST LOBSTER
POPES HARBOUR, NOVA SCOTIA, CANADA
1-800-604-1733
1-902-460-8706
DUE TO THE HUNDREDS OF QUOTES PER DAY YOU MAY NOT GET A REPLY BACK RIGHT AWAY. IF YOU HAVE SEEN OUR PRICES AND KNOW EXACTLY WHAT YOU WANT TO PURCHASE SIMPLY SEND YOUR E-TRANSFER WITHOUT WAITING FOR A REPLY. RESPONDING TO E-TRANSFERS COME IN PRIORITY BEFORE BROWSING OUR QUOTES.
FILL OUT THE WEB FORM BEFORE YOU SEND YOUR E-TRANSFER SO WE HAVE YOUR CONTACT AND FEDEX DELIVERY DETAILS.